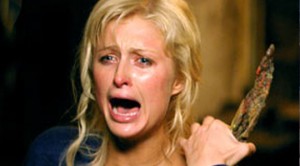 Paris Hilton got busted for cocaine possession in Las Vegas this past weekend, and her current boyfriend was hauled away in a police van.
Apparently she and her boyfriend are very distraught and hiding out in her mansion in L.A., most likely snorting more suspicious white powder up their nostrils…
Read more
E!News reports she and her current boyfriend are very distraught and her most recent tweet to us was "Going to bed. Sweet dreams everyone. Love Paris xoxo."
Everyone is shocked by this news. We all thought she changed her ways after spending three hard hours in a plush jail cell.
This woman needs help that no drug or prison sentence can provide. Perhaps it was her father that screwed her up, maybe she didn't get enough attention while he was out building a "bedbug empire" of hotel chains. Maybe, she needs to donate her fortune to drug rehabilitation centers, and work at a Goodwill or something.
All we know now is that she needs to be locked up for good before she kills someone.
Thanks to E!Online