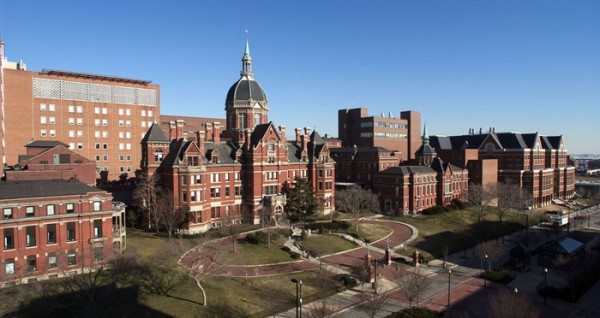 Police are still trying to apprehend and subdue a gunman who shot at least one doctor at Johns Hopkins hospital in downtown Baltimore. A SWAT team is in the hospital trying to find the gunman, while hospital staff are being told to stay locked inside rooms and offices as more are evacuated.
The doctor is in critical condition and is being operated on somewhere in the hospital.
A doctor on scene said the shooting happened near the emergency room entrance in the hospital's Nelson Building.
Check back for more updates.
UPDATE
Police spokesman Anthony Guglielmi has said that the shooter has been cornered in the hospital and it is not known whether he has hostages. The injured doctor's condition has been upgraded and it appears the injuries are not life threatening.
It appears the shooter was upset about his mother who was being treated for some unknown condition at the hospital.
UPDATE
It now appears the gunman has committed suicide after shooting and killing his mother who was being treated at the hospital. All this after he shot the doctor who treated his mother. Check back for more updates on this tragic story.