Rookie outfielder Tyler Colvin of the Chicago Cubs was impaled by a flying shard of wood from a broken bat as he ran towards home plate from third base.
The shard punctured Colvin's chest, requiring a chest tube to prevent his lung from collapsing.
Many players want maple bats banned because they are hard and tend to shatter easily, but the alternative wooden bat made of ash wood is scarce, forcing players to use maple.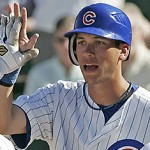 Colvin uses bats like the one that punctured his chest, and recent MLB regulations on bat design have prevented bat breakages by as much as 50%.
From USA Today
WATCH VIDEO