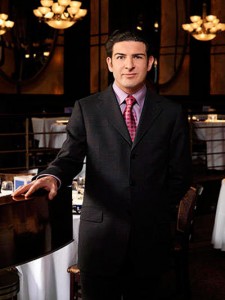 It appears that boot camp style head chef Gordon Ramsay's metro sexual right hand monkey man Jean Philippe, the maître d' from the popular reality television cooking show "Hell's Kitchen" won't be coming back to the show for Season 8.
He will be helping to open one of Ramsay's new restaurants overseas. Good luck to him, anyone who can deal with Ramsay has to either be brilliant or insane.
He will be sorely missed for his cold, calculating mannerisms and for coming up with all kinds of nasty work for the contestants to do.
Examples from past shows included scrubbing the kitchen spotless, decorating tables, and moving furniture.
Continue reading to see who his replacement is and watch a preview of Hell's Kitchen Season 8…
We can only hope his replacement James Lukanik will be more evil than he was to the contestants.