By
Geoff Filipiak
on September 24, 2010
Filed in
Entertainment
EXCLUSIVE COVERAGE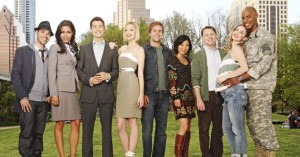 The new "mockumentary" based on Swedish series "God's Highway" follows a group of high school classmates in Austin, Texas in 2000, which records their hopes and dreams right before graduation from high school in 2000 and then revisits them 10 years later in the future as they realize things haven't gone as planned.
The new series is planned by ABC to bring new life to the network as it struggles in its ratings against NBC and CBS with a three way showdown occurring on the networks tonight between "The Big Bang Theory" on CBS, "Community" on NBC, and "My Generation" on ABC. All three are scheduled to air at 8pm on the east coast.
The networks will have to wait and see as DVR and Tivo viewers will most likely watch one show live while recording another to watch later. Which will you be watching, viewing later?
Click more to see a sneak preview of My Generation…
More like this
View more from Geoff Filipiak →
Reporting from the edge of the world, I'm Geoff Filipiak. I report on local stories in the Patapsco River Valley area and I am a correspondent for various news outlets. Drop me a line anytime...