A new disease spread by tick bites called Anaplasmosis that has already claimed 18 lives in China could spread to the United States.
Scientists fear the disease could be the next Lyme Disease, about 1% of people bitten by ticks in the United States have contacted Anaplasmosis and have died.
Symptoms of being bitten by a tick carrying Lyme Disease include a bulls eye shaped bite mark on the skin, followed by flu-like symptoms such as fever, headache and fatigue. If left untreated, Lyme disease can lead to heart problems, shutdown of the nervous system, and possibly death.
The good news is that treatment is easy with antibiotics and most symptoms are completely gone in weeks. Stocks of Chinese drug manufacturers have gone through the roof as medicines are made to treat Anaplasmosis, which has similar symptoms to Lyme Disease.
Experts say the best defense against Lyme Disease and Anaplasmosis is by reducing exposure, using insect repellent, removing ticks promptly, landscaping and integrated pest management.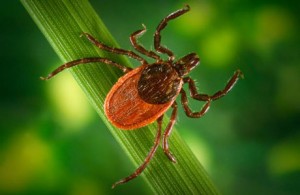 The tick responsible for transmission of anaplasmosis in the upper Midwest and Northeast is the black-legged tick (pictured above). Along the West Coast, the western black-legged tick (pictured at right) is responsible.