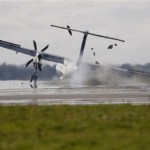 Those afraid of flying should not watch the following video clip.
A Delta Airlines flight had to make an emergency landing at JFK airport in New York City when it encountered problems deploying its landing gear Saturday.
A passenger on the plane filmed sparks flying out form under the wings as the plane was dragged along the runway. People screamed and cried as the plane finally came to rest as emergency crews scattered onto the runway to assist the passengers; none had reported injuries.
Authorities are investigating.
Click more to see video of the plane scraping along the runway…
Plane At JFK Makes Emergency Landing