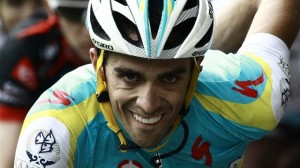 A laboratory in Germany has detected clenbuterol, a steroid commonly given to race horses, 400 times less than the lab was required to detect in the blood of three time winner of the Tour De France Alberto Contador.
Contador's publicist has cried out that the only possible explanation for the detection of the steroid is food contamination.
Contador will face the press in a news conference Thursday in Spain.
Contador won the Tour de France for the third time in four years, beating his rival Andy Schleck by 39 seconds in the finish.
Hordes of athletes have been banned from sport in recent months for abusing the steroid clenbuterol, which is used to burn fat while building muscle, commonly given to race horses.