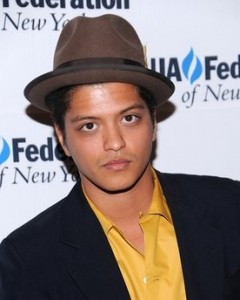 Peter Hernandez, who goes by his stage name "Bruno Mars", was arrested by police in Las Vegas when they discovered he had over 2 grams of cocaine in a bathroom stall after his performance at the Hard Rock Hotel & Casino's Wasted Space nightclub.
He faces up to four years in prison and a $5,000 fine if convicted and found guilty.
A bathroom attendant gave up up Hernandez to the police after he saw Hernandez fiddling with a bag of "white powder" in a bathroom stall.
Hernandez sings the hooks on B.o.B's "Nothin' on You", Travie McCoy's "Billionaire", and the current #1 hit song on Billboard "Just the Way You Are".
His new album "Doo-Wops & Hooligans" is due out this Tuesday.