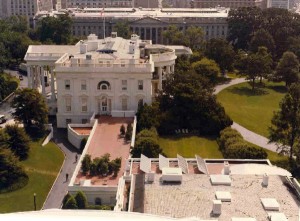 President Obama has taken the special privilege of adding back the solar panels that Ronald Reagan took down off the White House roof.
Reagan thought that the solar panels were not energy efficient to have on the White House, and critics of solar energy claim it won't help to make a difference in energy usage at the White House. Existing solar panels are much more efficient at converting solar energy into electricity.
Proponents argue the technology is advancing and putting the solar panels back will help to promote their use and bring costs down to consumers looking for alternative energy solutions to keep their wallets full.
Jimmy Carter actually was the first to put solar panels on the White House and demanded during his presidency that the United States get almost a quarter of its energy from the sun.
The Obama administration did not invoke the Carter administration when it made its announcement about adding the solar panels to the roof.