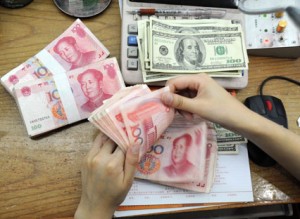 The growing economies of the world have all too long relied on American demand to support their mercantilist economies. China is at the head of this list, and the Federal Reserve with support of a U.S. Senate vote, will began flooding China's economy with liquidity in an attempt to make it cheaper for foreign economies to buy U.S. goods and services.
China has too long suppressed its currency and the U.S. cannot cope with a weak currency while unemployment numbers head above 10%.
Flooding China's economy with excess liquidity will cause China's wage costs to rise, making it prohibitively expensive to manufacture goods to export to the U.S.
Many support the return of a gold standard to add value and confidence to the U.S. dollar.