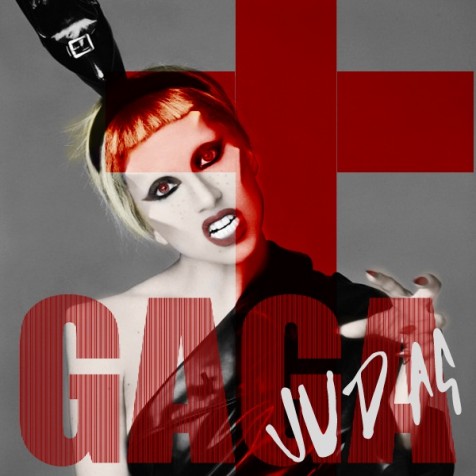 The new single "Judas" by Lady Gaga , whose real name is Stefani Joanne Angelina Germanotta, say that ten times fast, has upset groups of Christians who claim the song is satanic. In the lyrics, Germanotta talks about being in love with Judas, the man who betrayed Jesus in the Bible. Below are the lyrics from the single's chorus:
I'm just a Holy Fool, oh baby he's so cruel
But I'm still in love with Judas, baby
I'm just a Holy Fool, oh baby he's so cruel
But I'm still in love with Judas, baby
The song's bridge also contains some provactive lyrics which Germanotta is well known for:
In the most Biblical sense, I am beyond repentance
Fame hooker, prostitute wench, vomits her mind
But in the cultural sense I just speak in future tense
Judas kiss me if offenced, or wear an ear condom next time
Gaga told Carson Daly in an interview on Amp Radio that the track is about always "falling in love with the wrong man over and over again."
The blog News That Matters is critical of Gaga's lyrics:
The Bible speaks about people who are demonized. They have been taken captive by Satan, and are programed by him to do evil.

One such person is Lady Gaga. Millions of comfortably numb parents let their children watch her demonic videos.

If you are in love with Judas, you are in love with pitiful betrayal. You are a Quisling, and you deserve nothing better than to go and hang your self. All men are supposed to be in love with Jesus. Because as both Judas and Lady Gaga brings death, darkness and destruction into your life, Jesus brings light.
Gaga plans to release the single on April 19th, but the song was leaked online today April 15. Many are also critical of Gaga's decision to release the song around the holy Jewish holiday of Passover, which celebrates the ancient Israelites freedom from slavery in Egypt.
Many are wondering if Gaga wrote the song to bring attention to the Israel Palestine conflict, and many think it is just a ploy to generate publicity with a controversial song. Either way, the new single is expected to quickly climb to the top of the Billboard Hot 100 as soon as it is officially released on April 19, the start of Passover.