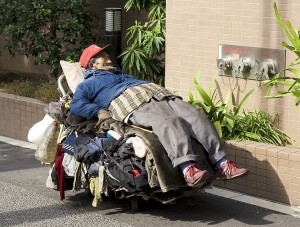 13 homeless people were strapped with wireless transmitters and t-shirts that read "I'm a 4G hotspot."
The company, BBH Labs, called the project a charitable experiment during the South by Southwest technology conference in Austin, Texas.
Participants were allowed to keep any donations and money they received while wearing the mobile hotspot.
Blogger Tim Carmody described the project as "completely problematic" and sounding like "something out of a darkly satirical science-fiction dystopia."
A commenter on his blog wrote, "my homeless hotspot keeps wandering out of range, and it's ruining all my day trades!"
Saneel Radia, the director of innovation at BBH Labs says the company wasn't taking advantage of the volunteers and said, "We saw it as a means to raise awareness by giving homeless people a way to engage with mainstream society and talk to people," he said. "The hot spot is a way for them to tell their story."
One volunteer who became homeless after Hurricane Katrina said, "Everyone thinks I'm getting the rough end of the stick, but I don't feel that," Mr. Jones said. "I love talking to people and it's a job. An honest day of work and pay."
What I am worried about is the health effects from wearing a wireless transmitter so close to the body!
Well if you ain't got nothin, you ain't got nothin to lose!