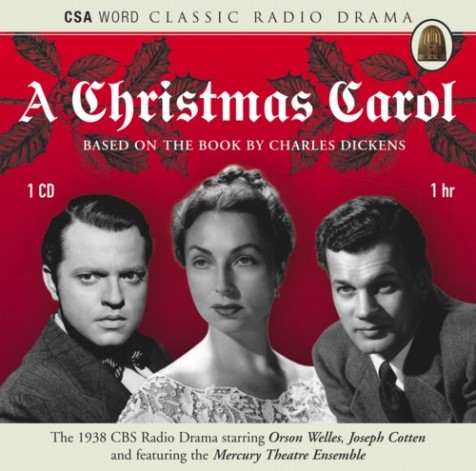 This classic broadcast first aired December 23, 1938 and is old time radio in its glory days.
Remember it only airs this week, so make sure to tune in to hear it!
Review from Amazon.com reviewer
KJC "Christmas CD Collector" (Columbus, OH USA)

This is an excellent change of pace from all the magnificent Christmas music during the holiday season. It is perfect for the drive home from work or at the end of the day to unwind. Sir Lionel Barrymore is outstanding as Charles Dickens' Ebenezer Scrooge, which he also played on various radio shows in the 1930s and 1940s, while Orson Wells brilliantly narrates. You'll quickly imagine yourself sitting in a familiar, worn and comfortable chair by the blazing fire paying heed to the radio on a snowy night in the 1940s. I admit that it isn't likely you'll listen to this particular 1938 recording over and over during the month of December but it is a story you'll enjoy once a year as a Christmas tradition.