Home » Archives by category » Latest News » Entertainment (Page 2)
This goat sings better than Taylor Swift!
Brought to you by
No, it's not another terrible Transformers movie thank god. It's a little known B movie flick from the height of 1990 with some great mood music and special effects. In [...]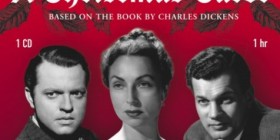 This week, tune in at 8:00pm Eastern Standard Time 0:00 UT to hear Orson Welles' Christmas Carol featuring Sir Lionel Barrymore.
If that dog did this in front of me I might go deaf. Warning, it gets loud.
LG Monitors were used to make it seem like an elevator floor was falling away right underneath people's feet. Great, but pretty expensive prank.