Bringing back memories of the early days of live radio and theater, the Baltimore Symphony Orchestra attracted young and old ears with last night's "A Sci-Fi Spectacular" featuring George Takei of Star Trek fame.
They show how flexible a city's symphony can be in meeting the changing needs of the listening public and bringing together different generations of listeners at the same time.
The whole night was a star studded spectacular featuring memorable scores from some of the greatest science fiction masterpieces ever created; think E.T. The Extra-Terrestrial, Star Wars, and of course Star Trek.
Hearing some excerpts of the music from E.T. performed live was thrilling. A rich medley featuring music from the X-Files, Star Wars, Lost in Space, and The Jetsons all magically woven together to begin the night was fun and exciting, but that was just the beginning…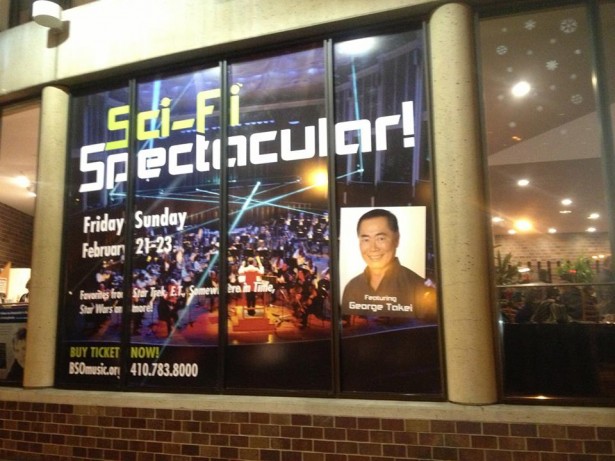 The conductor was informal and talked with the audience; his sense of humor had the whole hall in tears at one point.
Takei's storytelling combined with the excellent music made the whole experience a true show like something off Broadway, hearkening back to the early days of live radio and theater.
And that is where the whole night delivered and showed just how magical an experience at the symphony can be. Young and old faces could be seen all enjoying the music; something that brings everyone together.
More shows like this will surely keep the Baltimore Symphony selling out shows each month and drawing in a new generation of fans; last night's show was sold out and the place was packed. Some audience members even dressed up as characters from Star Wars; a stormtrooper took the stage at intermission, watching the audience eerily through a helmet and heightening the suspense until the music returned. The atmosphere was just exciting and magic was in the air.
A particularly memorable performance of "When You Wish Upon A Star" brought the house down; the applause after was deafening.
Two more performances tonight and Sunday are available with limited seats remaining.
Seats in the upper levels will give you a better view of the extensive percussion section which stayed busy the whole night and did a fantastic job, but any seat will please the ear and leave you with memories you'll never forget.