As you walk through Maryland's scenic Patapsco Valley State Park, you take a trip through time when the river powered little mill towns all up and down the river. Colder weather is here, and it is a perfect time to visit the park and take in the beautiful fall colors. Click on any of the pictures to see an enlarged copy.
Before you begin your trip, stop by the Old Mill Bakery Cafe, and grab a hot coffee or a warm muffin. This little cafe right off of Frederick Road in nearby Ellicott City is located near River Rd, which takes you right into the heart of the river valley.
The inside of the Old Mill Bakery Cafe is cozy and welcoming. Check out their coffee calendar to see upcoming special blends that are offered.

Take in the vastness of the river from one of its many bridges. There is a swinging steel bridge across the river near the Elkridge Landing entrance to the park and one that crosses the river near Ellicott City where we begin our walk.
Much of the river's power has been lost by various dams placed along it, but the scenic beauty of the river lives on.
Colder weather lights up the valley with blazing colors as you stroll the river bank. Here is one of the most scenic areas of the river on the Howard County side. You'll have to cross the swinging bridge to get to it.
The CSX railroad still runs strong along the length of the valley, and this fabulous truss bridge provides a crossing over a sharp hook in the river.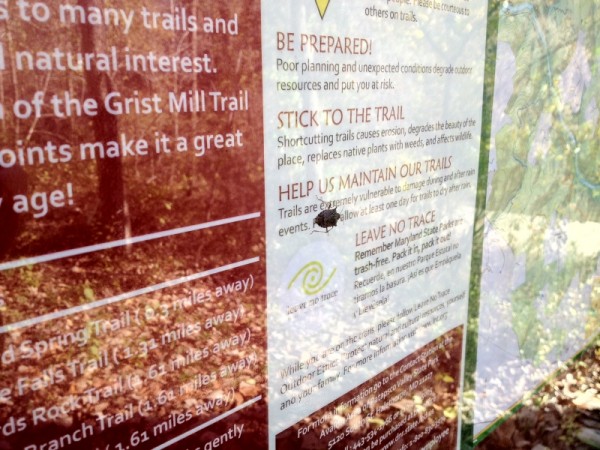 The stinkbug is here to stay in Maryland. This one is taking a rest on one of the many informative signs you'll find in the park.
This is one of my favorite times of the year in Patapsco River Valley State Park, and I hope you enjoyed a trip through time and color with me today! Happy leaf peeping to all!